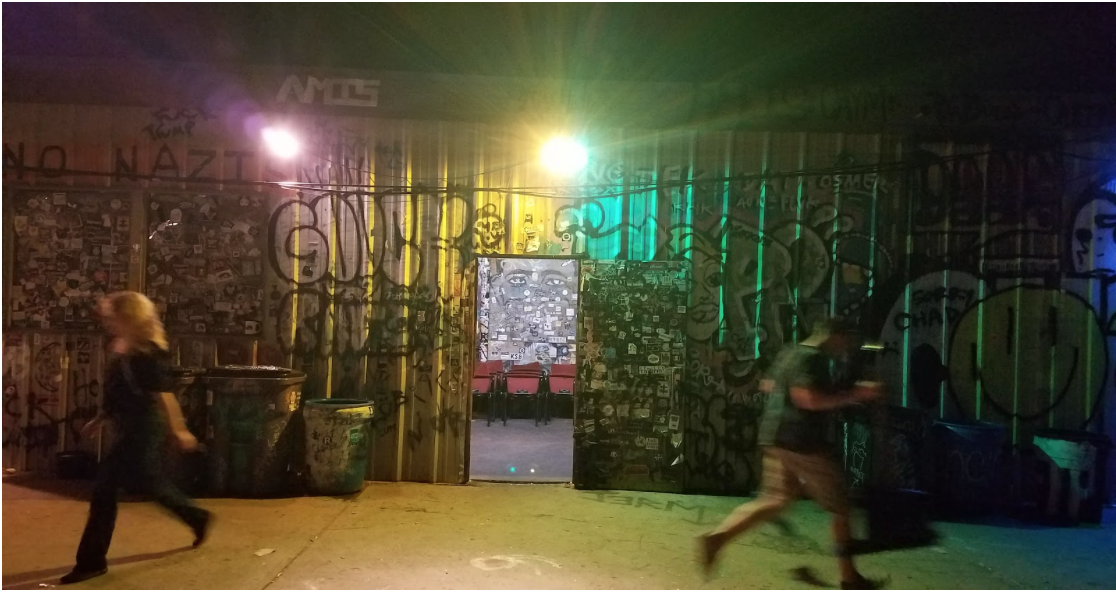 The car drove thru Denver's industrial district, past a rasta colored building and stopped at an intersection. Up and to the left stood a street sign implanted in concrete. The words were in big white block letters laid on a backdrop of green, it read 7th AVE. I crossed the intersection, parked next to a portapotty, got out of my car and started walking up the hill. I'll put it simply, I don't look like someone who would be in an industrial district. So it didn't come as a surprise when an old woman walking on the opposite side of the street bellowed out to me, "WHAT ARE YOU DOING HERE?!?!" She didn't have a reason to know, I could have kept walking, but then again I didn't have a reason not to tell her. So, I said " I'm going up to 7th Circle. It's their 6th anniversary and I want to check it out." She muttered out some incoherent regurgitation of what I had just said, calling it "6th circle" among other nonsense. All the while her face was a kaleidoscope of emotion switching from a smile, to raised eyebrows, to confusion and finally coming to a hult on a stoic stare. She looked at me in silence for a moment and then said, "There are devils up there." "Okayyyy…. good talk," I thought to myself. I just smiled, told her to have a good night and continued up the hill towards 7th Circle.
The hill was bathed in a yellow hue from the street lights. Three times I walked up that hill and entered thru a sticker-covered door. Each time I opened the door my ears were graced with a wide variety of sounds that surprised and amazed me. I heard a hypnotizing acoustic trio followed by a wild post-hardcore band ,then an instrumental metal band,a political rapper, a fun and nonsensical rock band, an ambient looper, a puppeteer who danced like a kangaroo, sung about the dangers of sniffing glue and talked about aliens and a enough punk bands to overthrow a small local government. "Oh man, my people!" I thought to myself. The diversity of genres at these shows was something I rarely find in going to 15 shows let alone 3. I was excited to start talking to such an eclectic group of people. I wanted to find out what this place meant to them.
The wide variety of music 7th circle offers ties in perfectly with their central ideas of inclusion, and acceptance. The FIRST thing you see when you visit their website is not a calendar but this message:
Seventh Circle Music Collective is a multi-use, collective-run, community-oriented DIY music space. All Genres of music are welcome here! We are all about free expression and we're not about censorship, however we ask that you (both as the performer and attendee) please come here with an attitude of acceptance and respect towards all. As such, any forms of racism, sexism, homophobia, transphobia, and any other sorts of bigotry will not be tolerated within these walls. Please leave those sentiments at the door, if you're unfortunate enough to harbor them in the first place. This is a place for ALL to feel safe, welcome, and comfortable to express who they are.
I was told a story by Zack, of the band The Uglys, that nicely illustrates the emphasis that 7th circle puts on creating a space for people to be themselves.
I was quick to find out that 7th circle was more than just a spray paint covered concrete building. It was a tight-knit community completely supported by music-loving volunteers. I talked to a man loading amps into a faded blue, nearly grey, van. His name was Austin. In my previous visits to 7th circle, I had seen him numerous times doing sound. He said he had been involved with 7th circle since the first meeting. I was excited to talk to someone who had been here since the venue's inception. I asked about how 7th circle got its name and what Austin thought 7th circle provided to the local music scene.
On the last night, I was ecstatic to see Aaron working the soundboard. An article about 7th circle would be incomplete without a word or two from him. He had a liveliness to his eyes that most people would have had beaten out of them by the time they turned 20. We when behind the stage room and laid back on the wall to talk. We could feel the amps shake the wall behind us as the next act warmed up. I asked what he was most proud of accomplishing during this 6-year span. His eyes grew wide as a plethora of memories that my question provoked filled his mind.
Tucked away in an industrial complex is a community like nothing I have ever come in contact with before. I found people who not only expressed themselves authentically but also loudly and unapologetically encouraged those around them to do the same. The spray paint covered building is far more than a stage with some speakers in it. When you are in that room, you don't think of that asshole who fucked with you earlier that day, or the fact that your boss is only qualified to run to the fridge, let alone run a business, or even the self-constructed prison you carry around in your mind day in and day out. In that room time slows down, you surrender to the moment, all that bull shit is left at the bottom of the hill. You are free to dance like a kangaroo, run around with a traffic cone on your head, lock arms with a stranger and spin around in a mosh pit or even just lean on the wall while taking in the music and just watch. After this glorious three-day celebration came to an end, I was walking to my car and I couldn't help but think back to the women I briefly talked to on my walk up the hill on the first night. Her words, like a spectator's voice, rattled around in my head."There are Devils up there." "Wow," I thought, chuckling to myself. " What a nice group of demons." If inclusivity, freedom of expression and kick ass music was what devils were all about then I needed to start sinning a hell of a lot more.
If you are interested, there are the unedited/unused interviews listed below. As well as a small compilation of people sharing their favorite 7th Circle memory. I want to thank everyone for taking the time to talk to me. Even if I didn't use the audio in the article your answers were indispensable in helping me understand what 7th Circle is all about. If you enjoyed this, stay tuned for more. I'm going to be trying to do a weekly/bi-weekly article on other venues and Events in the Front Range music scene. Again, I can't say this enough, thank you!
By Benjamin Tucker