Dearest listeners, volunteers, and faithful followers of college radio,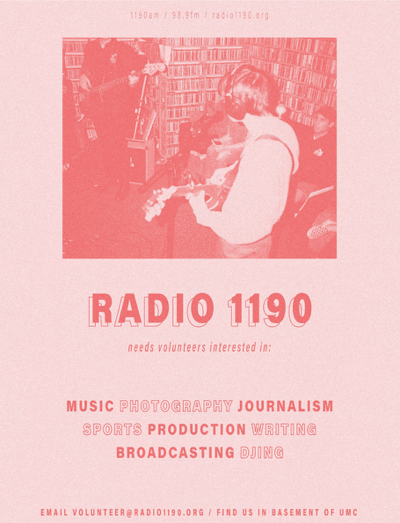 Welcome to the first edition of Radio 1190's new monthly newsletter, where we'll give you a little insight into station happenings straight from the best basement on campus. This month we're gearing up for the new semester with a variety of student welcome events, building up our staff with new hires, and re-vamping our blog with a new column called "Blast from the Past."
With the new school year fast approaching, we're stoked to welcome new volunteers into the 1190 community. Whether you're a new freshman, a transfer student, or an upperclassman just looking for something new; we have a place for you! We have volunteer opportunities in music journalism, concert photography, video production, live sound, graphic design, and so much more. Dedicated volunteers can also apply to DJ and join our street team to help decide what music goes on air.
If any of the above sounds good to you, swing by our table at any of the following events to say hi. Or if you can't make it, swing by our studio in the basement of the UMC any time <3
August 21st
Studio Tour for CommRAP students 11am -1pm
Swing by if you live in Buckingham Hall and enjoy station tours, free merch, and FREE FOOD.
Buckingham Hall Welcome Dinner 4 – 6pm
August 22nd
CMCI Orientation @ the Buff Pool 11am
Live DJs! Good music! More merch!
Connect at the Rec 8 -11pm
Open to all students.
August 24th
Open to all students, swing by to listen to cassettes with us and grab some more 1190 gear.
August 29th
Be Involved Fair @ Norlin Quad 2 – 6pm
Check out our table while also checking out all of CU's other student organizations.
In other news, our team of student managers is excited to begin the year with our new Volunteer Coordinator, Jacob Newman—a sophomore transfer student from the University of Wisconsin. We're also in the process of hiring a new engineer, production director, and Program Director. Head to the get involved tab on our site to see the available positions, and if you want to work with us you can send in an application on the student jobs portal.
Finally, we're always aiming for more and more quality content on our blog! Last month our VC Jacob wrote a great review of Sergio Mendes and Brazil '66, as well as a review of an improvisational jazz set that went down at Trident. Check those out on our website and stay tuned for more in the coming school year. If you'd like to volunteer to write with us, shoot me an email at hannah.m.morrison@colorado.edu.
That's all for now folks, but keep your eyes open for monthly 1190 updates going forward.
Hannah Morrison, Social Media Director