If you tune into Radio 1190 this week, you'll be hearing plenty of soothing music. Here's what we're spinning right now.
Goo Age is a Denver band making music that is truly innovative. In their debut record, "Chatbot Spa," Goo Age experiments with electronic sounds that range from hyper realistic to super synthetic, and they complement each other in an otherworldly way. They say their album is "a place to relax and float for all beings and forms of intelligence," and their unique electronic music truly makes you feel like you're on another planet. The songs on the album float between ambient experimental music and synth pop, with the distinctive glitchy textures tying everything together. The less driving and more ambient songs on the record float past your ears and around your head in circles as they play, and the upbeat songs feel like video game victory tunes. Goo Age is one of the most interesting experimental electronic groups I have listened to in the past year, and I can only imagine where they will go with their next releases. Tune in to Radio 1190 at 5 p.m. Friday to hear them play live on air and sit down with us for a short interview.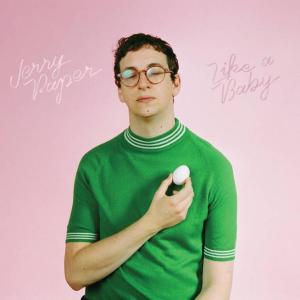 Last week, Jerry Paper released his album "Like a Baby." The album is absolutely gorgeous and channels a specific nostalgia that makes you want to listen to it over and over and over again. Paper cites Steely Dan as his main influence for the record, and you can hear the concrete pop inspiration on every track. The album sounds like a synthy rendition of classic music from the likes of Marvin Gaye and James Brown, and just about every song makes me quite literally dance in my seat. It is truly a pleasure to listen to this album from front to back, and I cannot recommend it enough. Each song perfectly balances the expected with the unexpected, and his lyrics comment on the current state of America in a way that almost everyone in the U.S. can relate to. His synth textures are impeccable and, while unconventional, don't distract from the music at all. You'll hear this in heavy rotation on 1190 all month (and even heavier on my personal playlists).
Yves Tumor just put out his album "Safe in the Hands of Love." This 10-track album is a peaceful and ambient listen. Tumor is known for his impressive experimental noise music, and he takes it to a new level with this album, utilizing a lot more pop and R&B elements than ever before. He seamlessly drifts between genres and sings soothing melodies drenched in reverb over faded drum and guitar loops. Listening to this record is emotional and dreamy; Tumor has an incredible talent for evoking huge emotions with subtle execution. The melodic parts of the songs are eerily distorted but maintain their incredible beauty throughout. It is a perfect album to send you into an emotional trance like no other.
By Ashley Koett